Skip Navigation
Foundational Programs
Science is complex. It shouldn't be exclusive.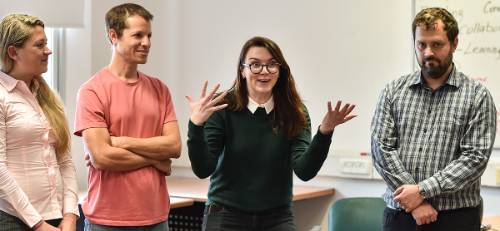 The Alda Center's help  researchers engage audiences effectively, build trust, and share the wonder and joy of their work.
These programs help researchers invite audiences into their work by bridging gaps in experience, cultures, and backgrounds.
Participants will learn to pay close attention to non-verbal communication, and to experiment with communication strategies to connect with audiences.
These strategies work with audiences of all ages, education levels, and areas of expertise. We offer a variety of formats to meet client needs.
Find Your Program
Essential Programming
Forge meaningful, trust-based connection
Signature Program: Expand your Skills
apply skills to different situations
A Unique Approach to Communication Training
The Alda Method is central to all our programs. The Alda Method combines social science research, applied improvisation, and communication strategies.
Our programs help experts build bridges between their knowledge and others'. This helps everyone more fully engage in the wonder and joy of research.
20,000 people have learned to build trust and foster engagement.
Thousands of people have learned better ways to foster trust, create authentic interpersonal connections, and share the wonder and joy of science.
Join Them.