Skip Navigation
Foundational Science Communication Programs
Science is complex. It shouldn't be exclusive.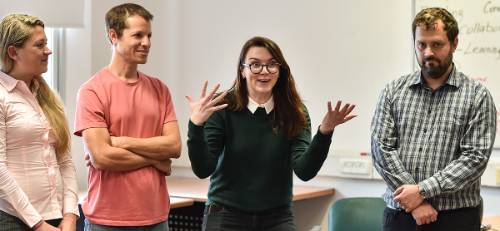 The Alda Center's foundational programs offer scientists and researchers a variety of ways to begin to explore ways to engage audiences effectively, build trust, and share the wonder and joy of their work.
Because all people understand the world through their individual experiences, these programs help researchers invite audiences into their work. Through active listening and close attention to non-verbal communication, participants will learn to build connections between their research and other people's backgrounds and experiences.
These communication strategies work with audiences of all ages, education levels, and areas of expertise. We offer a variety of formats to meet the needs and wants of our client organizations.
Find the Right Program
Essential Programming
Forge meaningful, trust-based connections through communication
Signature Program: Expand your Skills
Develop and apply communication skills to a variety of situations
A Unique Approach to Communication Training
The hallmark of the Alda Center's programming is the Alda Method. Its combination of applied improvisation exercises and communication strategies creates an experience that can shift scientists' focus away from technical information and jargon. The Alda Method helps scientists' recognize a piece of their audiences' world views, and find ways to fit their work into that broader context. Doing so builds trust and long-lasting understanding, which in turn, reveals the importance of science and research to others.
Program participants should expect a fully immersive experience. Movement, laughter, and engaging conversations with peers and Alda-certified instructors are fundamental parts of all our programs.
20,000 people have learned to build trust and foster engagement.
Through Alda Center professional development programs, thousands have adopted strategies to foster mutual trust, empower authentic interpersonal connections, and invite others to share in the wonder and joy of science.
Join Them.